I Am Her Daughter in the media
Interview on NBC's Good Day New Mexico (KOB4)
Licia Berry visits with Casey Messer at Good Day New Mexico to discuss her book I Am Her Daughter.
The Mother Wound
I Am Her Daughter includes themes of self-mothering, self-mentoring, and self-care.  Listen to this conversation with Licia over Mother's Day weekend about the Mother Wound and how that can impact us on Mother's Day.
[st_divider_shadow]
Praise for the book I Am Her Daughter
Licia weaves her wisdom and insights into a powerful journey through the darkness of her mother/daughter relationship and back again into the light. She invites us in to take an intimate look at the Mother/Daughter wound that so many women struggle with as we grow into our own expression of the Divine Feminine. She reminds us that making peace with this wound can help to heal the masculine/feminine imbalance that permeates our world. She reminds us that we can break the cycle of the damage the Mother Wound creates so that we might mother our own children in a more balanced and artful way.
[st_divider_dashed]
I had not realized how our mothers and other women so deeply influenced our behaviours. And how deeply women can heal themselves and others by being true mothers, daughters and sisters to one another. There are many self-development books which tell you to go within. They are often sketchy with details on how to do that. Licia has given us many road signs and mile markers to use. She does with a loving tone – like that of an earth mother. Reading this book was soothing as well as enlightening.
[st_divider_dashed]
Licia has shared her journey and her insights with us in such a personal, beautiful and inspiring way. A guide for developing a more balanced energetic within, she teaches whole brain integration. With information channeled from Great Mother, Licia blends her personal growth and development as a shaman, her experience as a teacher and an artist, and her story of a woman coming into her awareness as a leader, teacher and way-shower; she is an excellent steerswoman for healing our wounds and connecting with the greater whole, from within our whole brains to the whole Universe.
[st_divider_dashed]
This book is simply a stunning look at our relationship with ourselves, our mothers, our Mother, our daughters, our inner child…and is honest and breath taking. The author has a way with words that make you feel she is your friend and your sister. This is not an easy read but well worth the time as the layers of our Mother Wound become healed. we all need to read this at least once.
[st_divider_dashed]
This book was an incredible page turner for me, a magical portal into the loving arms of the energy of our Mother. Licia exquisitely weaves her journey to Mother Love through her own story of suffering and empowerment. I am so grateful for her healing and her courageous sharing so that I and others can feel affirmation, validation and see the way to healing our own selves and our daughters.
[st_divider_dashed]
I love the authors way with words. Though we may all experience the mother wound differently, we are all wounded in some way at some time. Licia Berry writes in a way that any and all can relate to. No matter your history/personal story, this is a must read. It is a book that opens one up to ones own healing. Love, love, love…
[st_divider_dashed]
Licia Berry has out done herself with her latest book "I am her daughter". I couldn't put it down and I felt as if she were writing my story. Thank you Licia for your willingness to share your life story so that those of us willing to peek into our own pasts can find the loving arms of our true mother.
[st_divider_dashed]
Brilliant and powerful from start to finish. A must read by any woman and any man who loves a woman.
[st_divider_dashed]
Beautifully written, every woman will find something familiar in Licia Berry's journey. Powerful, courageous, healing.
[st_divider_dashed]
What amazed me most about this book is though our stories are different the feelings and timing of events in our lives are so very similar. Licia gives parts of her life experiences as information and gives guidance that can be used as a tool for each individual woman's healing. I feel a collective healing will come from reading this book and sharing it with others. What a wonderful gift she has given. Thank you Licia.
[st_divider_dashed]
Licia provides a safe space to examine our relationships with our mothers and opens the way for acceptance and healing. It is a powerful story that only a brave healer can share. I'm very grateful that she has the ability to lay her life out like a map that we can all use to navigate our way home.
[st_divider_dashed]
What a beautiful and deeply moving memoir. Licia is all about healing and the passion she holds for that is resonant in the words she writes. Love this book!
[st_divider_shadow]
Inspired?
DOES THIS MESSAGE SPEAK TO A WILD LONGING IN YOUR SOUL? YOU'RE NOT ALONE!
Join Licia's RE-MOTHERING MOVEMENT on Facebook, Twitter, Google+, LinkedIn, Instagram, YouTube and Live Video on Facebook!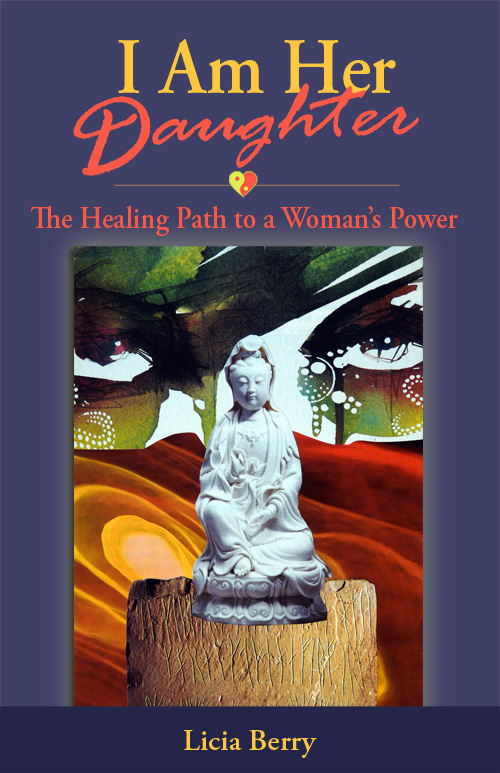 Available at all online retailers
Or get your Autographed Copy Here