Are you a woman with burning desire to serve, have a message that will benefit All Creation, and the call to action to make it happen, but don't know how?
Hire Licia Berry as Your Mentor!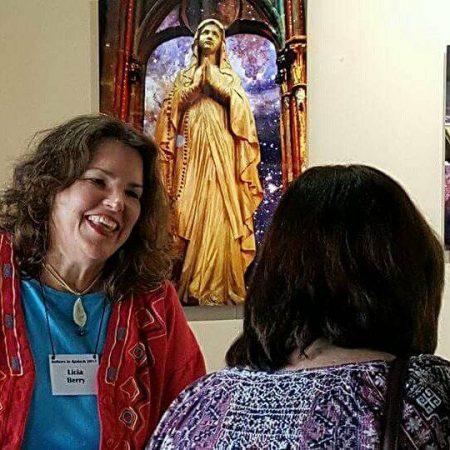 Mentoring with Licia Berry is designed uniquely to your needs in order to support you in claiming and expressing your authentic voice and purpose, and to SHOW UP in the world!
Licia Berry accepts a limited number of women each year under her wing to personally mentor and instruct in feminine leadership and self-mastery. For women who seek to know themselves and to express their True Power. Together, we can create a community of women who empower themselves to live an Aquarian model of respect, partnership, and self-responsibility in All Creation.
Now, more than ever, we need to get our game on. It's time to step up into our power!
For those who are ready to PLAY in the Big Playground, that means dealing with the habits and patterns which have prevented our showing UP.
While I offer packages of hours to be used at your discretion, my Athena's Army includes 2 full 45 minute sessions per month PLUS membership in Athena's Alliance. This is excellent for women with a drive to be heard and seen, with a burning passion to be of service. If you feel as though you can't make your mark on the world, as if something is in the way of your full-on expression, then this mentoring service is designed uniquely for you. If you are ready to shine your light, own your life's purpose, and take off the invisibility cloak, step up!
The motivation for my mentoring service is that it is focused on your goals, directed by your intention…and frequent contact and individualized support make for miraculous results.
Your investment in your actualized self-expression is $495/month, and includes 3 full 45 minutes sessions with Licia. Billed monthly until you feel ready to FLY. Cancel at any time.
[st_hover_icon_button text_color="#ffffff" link="https://zr220.infusionsoft.com/app/storeFront/showProductDetail?productId=278″ background="#338dbb" size="large" target="_blank" icon="chevron-right" icon_spin="no" icon_direction="left-to-right" border_radius=""]Click here to join[/st_hover_icon_button]
Apply for the Athena's Alliance Mentorship Program here.
I'm a Guide to the Frontier Inside, a Navigator of Whole Brain Territory, and Mentor… utilizing a marriage of science and spirit.
"Author, Artist, Speaker and Women's Advocate, Licia (pronounced LEE-SHA) Berry is known the world over as "The Wild Woman's Guide to the Frontier Inside" ™. She has a passionate belief in women's innate resilience and an ongoing quest to nurture women's empowerment, leading her to teach other women to manage their energy, navigate their inner territory to discover their Original Design, and claim their unique life song for 15 years. Leading by example, Licia works to show women how to use their life experiences to achieve physical, emotional, mental and spiritual wholeness. Writing on juicy themes of women's issues, resilience, consciousness, divinity, using more of our brain, and creative approaches to a balanced, grounded and inspirited life, her words have impacted seekers around the globe." Sessions with Licia available by Skype, phone and in-person.
Reclaim your true power
Sometimes the changes that happen in our lives seem random, but in my experience they are part of a larger logic, a journey to our most authentic selves. It can be hard to see that larger logic, the big picture of our lives. We ALL have blind spots when it comes to seeing ourselves clearly, seeing the WHOLE picture. This is why we need each other to reflect one another!
In a left brain culture, we have systematically been taught to devalue the input of our right brain…the half of our brain that senses the big picture, makes meaning of our lives, and processes mystical experience. My own life experience is to have "recovered" my right brain's vast stores of wisdom, through my professional training as an educator, leader, mentor, Brain Gym and Psych K practitioner, and 25 years of practice. As a Whole Brain Integration expert, I can see things that perhaps you can't see…None of us can know all of the mysteries of the universe, but as a keen observer of patterns and a meaning maker, I can reflect back to you what I see.
You are the source of your life; you cannot escape your own brain. It is at the level of the source that things begin to change, a ripple effect that reaches everything your life touches. We are psycho-spiritual-social-physical-emotional-mental beings. By integrating our brain, we integrate our life. My intention is to assist you to access your own inner wisdom. You have the answers that you need to your most pressing questions.
Are you feeling burdened by some invisible force, no matter what you do?

Do you have a sense that you are undergoing a profound change?

Are you facing a difficult choice or standing at a crossroads?
---
My work is inclusive of a holistic blend of these modalities:
Energy Coaching
At the intersection of psychology, neuroscience and shamanism, Licia has been practicing subtle energy processes personally and professionally for 25 years. Called a Wise Woman and Medicine Woman by her indigenous peers, Licia has has a natural gift for reading your Original Design and seeing the imbalances that are getting in your way and preventing ease and grace in all areas of your life. A good marriage of science and spirit, Licia's interest is in providing effective treatment in the old ways, backed up by evidence-based approaches.
Ancestral Lineage Healing
From an indigenous perspective, we are carrying our ancestry in our bodies, and we come in through the ancentral lines and pick up anything that is unresolved by those who came before us, like going through a spider web. The medicine person of the tribe would go into the other worlds when someone died to make sure all things were resolved so their descendants would not have to carry that burden. Now, 5-7 generations later, we do not do this any more, and we have 5-7 generations of people who have been carrying the burden left unresolved by all who came before them. This can manifest as mental illnesses, addictions, self sabotage, feeling constantly thwarted when trying to move forward, and a whole host of uncomfortable or even dangerous energy patterns. The old ways understood that energy never dies, it is just recycled and transformed, and so we knew that things needed to be cleaned up for future generations to live an unburdened life. I spoke a bit about this shamanic process when I was interviewed by Susun Weed in 2012.
Luminous Body Subtle Energy Bio Mechanics and Management
Everything is energy. There is much more to us than can be detected by our 5 senses. We can learn to work with our energy body interactively to manage our daily energy and keep us running smoothly for an effective life! Imbalances can be observed by a clear and detached but compassionate and discerning perspective, then corrected by informed intention. After 48 years of applied practice and training, Licia also intervenes on your behalf when necessary to assist you in times of trouble.
Inner Tribe™ Work
A supportive, loving and very swift integration technique with Mothering at the heart, Inner Tribe work is Licia's own blend of the ancient art of shamanism, whole brain neuro-science and psychology. Shamanism is the oldest medicine in the world, relying on the heart and skillful handling of parts of self. Whole brain neuro-science is the neural basis of the nervous system, the network of our electrical and subtle energetic, luminous body. Psychology is the study and practiced handling of the mental components of our mind. With a marriage of these techniques, Licia has developed an effective and pleasant process that lovingly supports a return to wholeness and moving forward in one's life with clarity and purpose. Instant, gentle, positive change…has to be experienced to be believed.
Brain Balancing
YOU HAVE IMMEDIATE ACCESS…to answers and to your inner peace. When our conscious and our subconscious do not agree, we can self-sabotage, expending life energy and getting frustrated at our lack of progress. It is then up to us to bring our conscious and subconscious into agreement through gentle balancing of the neural pathways where habitual thought patterns travel. My certification in Psych-K (Psychology-Kinesiology) and use of Brain Gym in my practice enable me to lead you through gently balancing the subconscious energy patterns that prevent you from moving gracefully into your actualized life. This technique is life changing.
Vision Quest
Your life has meaning, an epic story of your unique journey…and there is a part of you that knows the map…and it points the way Home. Our stories truly do have meaning….the things that occur in our life, the obstacles in our path, the triumphs as we overcome them… these are our healing stories, our hero/ine's journeys. It is our right brain, our "spiritual brain", that understands this truth. In this session, I will help you find and read the map that you've made with your life; together, we will discover the meaning, the making of a hero/ine, and you will be reminded of the wonder of your epic journey!
Illumined Collage Interpretation
I facilitate you while you utilize creative approaches to access your own deeper wisdom through my patent-pending "Illumined Collage" process. Collage work and other art forms, ritual and intention may be part of the creative process as you reveal your inner brilliance to yourself. I then study the images the right brain has chosen, translating the symbolism and the larger story that your collage has told. Note: I offer suggestions about what I see, but only you, the collage artist, can fully discern its meaning. I schedule appointments with individuals who wish to review and explore personal meanings in their art. A powerful experience! Illumined Collage sessions are priced per individual. To have me create an Illumined Collage for you, see my Spirit Collage service.
---
Session Pricing with Licia Berry
First Session is 55 minutes in order for us to get to know each other and begin your empowered transformation. $297 $150 for a limited time!
If you decide to continue with me, I offer individual support, healing and mentoring, utilizing the modalities that are appropriate for your unique situation. I offer subscription services and mentoring packages for those eager to grow.
READY TO LIVE YOUR PURPOSE, MISSION, VISION?
A package for the WHOLE Person who chooses to align in their Original Design ™ .
READY TO LIVE, REALLY LIVE?
So, you've already been doing your inner work. You already know some things about your intuition, your energy system, and moving into your most authentic life. You are feeling the call of your destiny, but aren't sure which way to turn. Or you've tried and tried to move forward, but every time you get so far and then something trips you up.
EVERYTHING BEGINS WITH YOU. YOU ARE THE SOURCE OF YOUR LIFE.
You're ready for the next level up, and you need hands-on, ready guidance from a successful, seasoned traveler. This DO IT ALL package is for the person who is really ready to overcome their inner obstacles to their success, abundance and joy. Package is complete with your custom designed Vision Quest, Original Design training including a Whole Brain Collage to make your Frontier Inside map, Hand Analysis with one of my certified experts, PEMS training, energy coaching, transforming your physical, emotional,mental and spiritual obstacles to living your Original Design and most authentic, joyful life!
Our work together will be completed through 24 bi-weekly Sessions over one year (on the phone/Skype and with personal email support.) The True Change Program. Entire package $4200