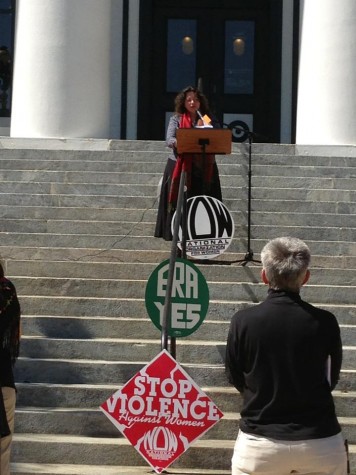 Licia reading from SOUL COMPOST at the Capitol on International Womens Day 2013
I'm always happy to be invited to speak up and share my voice with others.  I believe this is good for us as women…to invite one another to share our hearts in a community of listening.  When we gather to listen to one another, we are strengthening our Collective Heart and healing the world.  As I have said for many years, "Every woman deserves a tribe."  Thanks to wisewoman E'Layne Koenisberg, a friend, colleague, mentor, tribe member, and an artist, author and coach, who invited me to take part in this blog tour.  We are asked to answer four questions, and you can read E'Layne's response to the blog tour on her wonderful art blog here  My Writing Process Blog Tour.
What am I working on?
I'm eyeball-deep in writing my third book, I Am Her Daughter, part memoir, part case studies from numerous women in my global cclientelefrom my private practice, and part instructional manual about the necessity of learning to mother ourselves with fierce devotion, grace, discernment and compassion in order to find our True Power. After publishing Soul Compost in 2012 (my memoir of healing from sexual abuse through the lens of a heroine's journey), I was called to deepen the story as I've learned to embody the universal mother and lead myself by the hand into wholeness, joy and heartfelt engagement with women.
How does my work differ from others of its genre?
I believe deeply in embodiment of wisdom, rather than the merely intellectual sharing of knowledge.  My native heritage as well as the ancestry that comprises me seems to ask me to live my lessons as I share them.  I find that this is a way to "ground the story", a term I created to explain the sensation I have when listening to or reading someone who has actually lived what they are saying.  It is as if the cells in my body can feel the Truth in the cells of the speaker's body, and it makes me sit up and listen.  I strive to be a Wise Woman and serve my people through the grounding of my story.
Why do I write what I do?
Writing is another way to reclaim my voice.  In Soul Compost, I wrote in chapter 3 about "The Bird in my Throat":
In my inner vision, I saw my voice as a bird:
"The bird in my throat wants to fly. It beats against the cage with its wings. My fear wants to tell the great bird to go to sleep. Goodness, it is a big bird. A giant bird. How on earth did it fit in that little cage? It must be so uncomfortable, so tight. It is here that I see that the great bird in my throat is an Eagle. The ferocity with which it meets my eyes is unmistakable. It WILL be heard. I fumble with the latch of the cage, and the great Eagle rushes the door as fast as I can open it. It pushes past me and alights, towering, by my side. It begins to screech like it has been silent for 5000 years; it screeches and calls and screams as if to break open the world with the sound. I am completely in awe of its voice and its powerful determination to speak. I make a vow to never ask this immense, warrior-like creature to step into the cage again. In fact, inspired by its ferocity, I pick up a giant sledgehammer and destroy the cage, watching as the pieces fly and scatter to the four winds. The Great Eagle observes my actions, approving with its proud eyes. This bird is free."  -excerpt from SOUL COMPOST, by Licia Berry, copyright 2013, all rights reserved 
I feel that any and every way we can express our voice as women is an opening to a different, more loving world (as long as we are expressing the feminine in us, not necessarily expressing in the manly way we have been taught by our culture.)
My feeling, perhaps from the indigenous standpoint, is that balance requires the amplification of what has been suppressed, and that means many of us need to consciously engage with and embody feminine practice.  This is why I'm writing I Am Her Daughter…to show a way to engage with and embody feminine practice.
How does my writing process work?
My writing is deeply influenced by the voices of greater intelligence.  Again, as a throwback to an indigenous understanding, I feel the inter-connectivity of All Creation and the vast intelligence there.  In my writing time, I consciously invite my ancestors and helping spirits to sit with me while I write, and I find that the larger pool of intelligence far surpasses what I could offer by myself.  I believe all of us can be conduits for greater intelligence when we allow it, or are ready for the demands that this level of communication makes of us.
More about Licia:
Licia is A Woman With Something to Say, and an author, facilitator and advocate for other Women With Something to Say.  Through her women's groups, Women's Leadership Curriculum, and writing, she leads and invites women into their True Power. She has been in private practice since 2001 assisting others to embody and express their truth physically, emotionally, mentally and spiritually.  Learn more about Licia at her website.  Like her Illumined Arts Facebook page here!
I am passing the talking stick to a fantastic woman for this Blog Tour:
Jane Cunningham of Numinous Jane, from the east coast of New Zealand. She is a colleague. WiseWoman, and a Soul Sister of My Heart who says. "I am a conduit for love and a creativity activist, story teller, artist and beloved."  Her wonderful blog is http://www.numinousjane.com/blog