I just completed a 4000 thousand-mile, one month long road trip for my The Frontier Inside ™ western tour.  It was an extraordinary, adventure and love-filled experience of women, wisdom and landscape.
It began as a dream to host a women's retreat in Tucson; once I made the choice to trust and act on that inspiration, I noticed by chance (HA) that Ghost Ranch was hosting a week-long Wisdom Sharing retreat with Gloria Steinem, Alice Walker and Dr. Hyun Kung Chung in October. I registered without thinking twice, following an impulse that felt like a lighting bolt from heaven.  Once this was on my calendar, it made sense to schedule the dreamed-about women's retreat in Tucson afterward.  I was in the finishing stages of my next book, I Am Her Daughter, and had a hunch there were some pieces that needed to be in the book that I had not yet lived; what better way to invite creative inspiration than to take a trip west? My newest curriculum, The Frontier Inside (tm) , was ready to roll out, and I would be out west anyway, so I took the big leap and scheduled it.
What transpired (and what I unknowingly created for myself) was a month-long transition time from the chapter of my life as a hands-on mother of my sons (which is closing) and the chapter of my life as an elder wise woman (which is beginning).  Over that period of time, my old concept of self shattered into lots of pieces, and a new (and yet very old) self began to emerge.  With the help and midwifing of many wonderful, wise, generous, kind, and soulful women, my heart and my spirit took back the wheel, guiding me in ways I could not begin to understand logically, but could feel the rightness of.  It was a month-long bridge, spanning the country from east to west and back again, as I said goodbye to my old life and hello to my new, deeper one.
I'm chronicling my life journey as I have since I was in middle school…it seems important to record what is occurring so that I can share insights with others, but also for my own sanity; I can look back in moments of doubt and see that I was indeed smart, worthy, deserving, supported and sane as I went through something that felt chaotic, which growth tends to feel like.  It gives me perspective, which is important if you are going to own the title of Wise Woman.
Below is the beginning of what I recorded.  My experience has been so big that it has taken me a month just to begin to speak of it.  I'll be writing posts about this process for some time; the transition from mother to elder is a mysterious journey to experience as a woman, and I want to be as conscious and awake to it as I possibly can.  Pray for me.  🙂
Thoughts after Wisdom Sharing, Ghost Ranch, October 2014
I attended a remarkable 5 day event at my beloved Ghost Ranch Oct. 13-17; usually I take a group of women to lead a creative spirituality retreat there each year, but this time I went for MYSELF to a weeklong seminar with Alice Walker, Gloria Steinem and Dr. Chung Hyun Kung, 3 women activists and leaders in the charge for women's equality.  It was a good decision, and an important milestone for me.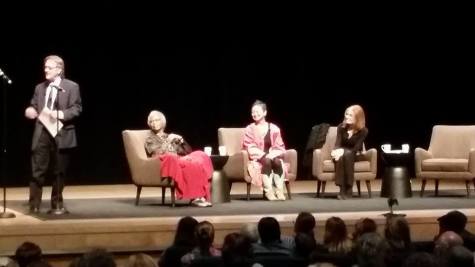 It began in Santa Fe the weekend before the actual retreat at Ghost Ranch. I attended their sold out panel discussion "Leading by Being".  Being in the same room as these iconic women leaders, breathing the same air, was so intense.  I noticed as soon as they were announced and came onto the stage that I left my body for a moment…the emotion I felt was so big.
These women loom large in my mind and heart; they care about what I care about.  They speak out about what I speak out about.  They've devoted their lives to uplifting women (and therefore ALL of us).  They have skin in the game.  And I aspire to do good in the world as they have. To see my mentors, my inspirations, my heroines LIVE, right in front of me broke a lot of my circuits.  I think this is when it happened.
I listened for the next couple of hours to their deep discussion and sharing of their thoughts about the state of the earth, the state of women, the state of humanity..and I found myself in new/old territory.  I felt my hold on myself slipping away, couldn't fully feel my old familiar self.  I was confronted with an odd sensation that took some time to articulate.  The feeling…it was like drinking good water, the best water, like the sweetest water from my homeland that I hadn't drunk in 5000 years and thought I'd never drink again.  It touched something deep in me, a kernel of white hot, singing purity.  It was like memory from the beginning of time.  I left the evening in a mysterious, speechless fog.
My host, dear soul family and one of my sister-midwives in Santa Fe, the illustrious goddess artist Amy Paloranta asked me when I returned to her home that night how it went and I struggled to find the words. The best I could do was to drop into my body, where I discovered a distinct feeling…My sensation was as if I were a vessel that was cracking.  I could feel and see the hairline fractures, like horsehair pottery.  The best I could do was to say, "I think I'm being broken open."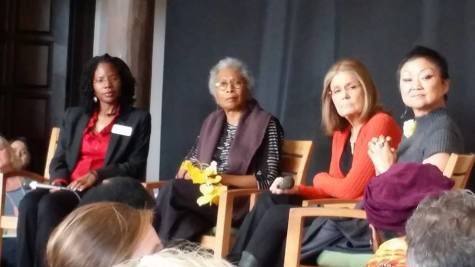 This was the beginning of my breaking, which would be continued at the Wisdom Sharing Retreat with Ms. Steinem, Ms. Walker and Dr. Chung.  Each of them represented a different, unique point of reference (I really resonate with fellow attendee, artist/writer, new friend and one of my sister-midwives Evelyn Porter's interpretation of each of them representing an element: Alice Walker=Earth, Gloria Steinem=Air, Hyun Kung Chung = Fire, and the indigenous sisters= Water).  
5 days of listening to, interacting with and being in very close proximity to these women sealed the deal.  I would not be able to return to my former shape.  I'd been broken open to become a bigger container.  This event interestingly coincided with the last of my menses (a 10-day, gritty, bittersweet goodbye…too much?…you'll get over it) as I surrounded myself with these powerful women, midwifing me into my next self.  I had inadvertently put myself into the best hands as I went into the fires of transformation, my passage from one phase of my life to the next.  I would never be the same.
to be continued…
xo
Licia,
faithful recorder of human experience and messenger