It's tomato season here in Florida…where we used to not get home grown tomatoes until July or even August in the mountains of NC, down here in sub-tropical Tallahassee, we are already enjoying these purple cherokees grown by fellow artist Pattie Maney.  She and her Italian man grow these here in the hills of Tally and deliver them all over town.
When ours arrived last week, I was instantly bowled over by the sheer beauty, vibrance and presence of these tomatoes.   They are literal sunshine in your hand.  And when you cut them open….ah, it looks like delicious sin.  The purples, reds and deep blacks of the flesh evoke images of the inner sanctum of the yoni.  See me, feel me, touch me, devour me. No apologies, they are just OUT there.
But I digress….my intention in sharing these bowls of beauty with you are to describe the feeling of wealth that I experience when I look at these mountains of tomatoes overflowing my countertop.  Since I am working on my relationship with abundance, and currency in particular, I have been guided to be alert to when I feel wealthy, when I feel lack, and to follow those feelings to their root so that I may identify where the energy patterns I've developed come from.  It has been HIGHLY productive work, and I am experiencing more flow (lots more flow) of good things coming my way in the scant few months I have been consciously changing my energy patterns.
I noticed that I'm feeling like a Queen due to the abundance of tomatoes in my house; they may as well be piles of gold, jewels and pearls.  It is the same feeling I have when I see my vibrant garden growing through my kitchen window, or harvest zucchini, basil or yellow squash, or pick a sweet pea and eat it right there next to the vine.  It is a feeling of being gifted, and having done nothing in particular to deserve it except to ask that the seeds I plant grow fruit to feed my family.
It's caused me to examine these feelings of "not being worthy" that seem so pervasive in the clients I work with and in my own psyche…the sense that I am not of value, when in fact we're all inherently worthy just because we are part of  this universe.  I have uncovered that I have a subconscious belief system that I must work very, very hard to attain the universe's approval, love, etc.  That I must overcome all of my "badness" in order to set the balance right and start showing marks in the black.  This comes from very early conditioning by people who believed the same about themselves (otherwise they would not have passed that on).
Once I follow the bread crumbs to the root of a belief, then I can grab it by the tail and shift it.  I do this through various techniques and tools I've learned over my years as an "energy mechanic".  I utilize my whole-brain collages to engage my right brain and access my subconscious, where the old beliefs lie.  Once I find the thread of the belief, I can touch the source of the hurt that the original belief grew from, then pull it out by the root.  A moment of emotion as I re-open the wound, release the original shame, then heal it  from the inside out with new beliefs.  It is a miracle.  I LOVE this work.
And in the spirit of sharing (because I am so very wealthy and blessed), I offer you the best-est summer tomato recipe on the planet.  Enjoy!  🙂
Licia's North Carolina Tomato Pie (adapted)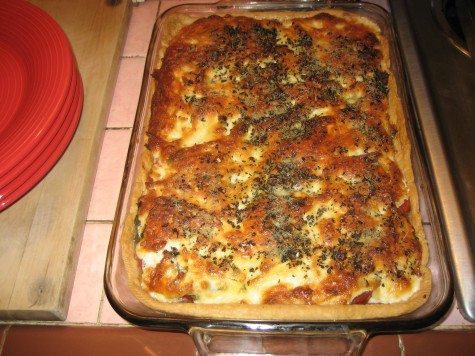 This is the treat my family looks forward to each summer once the tomatoes start coming in.  It's no good trying to make this other times of year with grocery store tomatoes (believe me, I've tried)…you gotta have the home grown beauties.
Lay pie shell out in a 9X12 baking dish, coming up the sides to the top (I use the pre-made, packaged ones, but you can make your own pie crust of you want.  I have to use two pie shells to over the bottom and sides of the dish).
Line the pie shell with thick sliced tomatoes, up to almost the top of the dish.  Depending on the size of the tomatoes, this could take 5 or 12.
Season the tomatoes with salt/pepper and fresh basil on top.
Then mix in bowl: 1 cup Hellmans' mayo and 1 cup shredded cheese (our fave is a mix of swiss, jack and provolone).  DO NOT skimp on this part even though we've been taught these things are bad for us.  A little bit here and there is okay.  Mix this together and spread over the top of the tomatoes.
Sprinkle the top with a little parmesan and a bit of dried basil flakes.
Bake at 400 degrees for 15 minutes, then at 350 degrees for 20-30 minutes (keep an eye on the top-if the cheese is getting too dark, cover with foil while it continues to bake.)
This is VERY hot when it comes out…let it sit for 10-15 minutes, then serve with just about anything…we eat it with chicken, by itself with salad, for breakfast with eggs…shoot, this really is just the best thing you ever put in your mouth, so eat it when it feels right!
xoxoxo